Come to Dubai!!!
The metropolis is constantly developing, offering attractions that are hard to find anywhere else in the world.
Luxury cars, extravagant and multi-million-dollar properties and exotic pets, particularly lions and tigers, naturally come to mind when people think of Dubai.
However, Dubai is much more than just these things!
– GIANT MAN-MADE ISLANDS REPRESENTING THE WORLD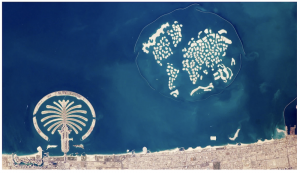 Dubai has created its beaches and archipelagos, which are not natural but man-made creations. For some this might seem a weakness; however, by making them as natural as possible, they have become very popular and attractive.
In addition to the Palm Jumeirah development, another man-made island shaped like a palm tree, which extends into the Persian Gulf, Dubai is also developing a series of private villas, hotels, and restaurants on an archipelago of islands called "The World" which are shaped like the map of the world and are named after different countries.
– SUN, SEA AND … SNOW!
With golden beaches and tropical temperatures, you may think of many activities, but it would be difficult to imagine putting on your skis and launching yourself down a snow-covered slope.
In Dubai, you can actually experience snow. Yes, that's right, snow in Dubai!
Right in the heart of the metropolis, there is an indoor ski slope inside the second largest shopping mall in the city, Mall of Emirates.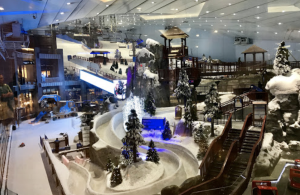 This area not only has 5 ski slopes, the longest being about 0.4 kilometers, but it also has an open-air cinema, where you can warm up with hot chocolate and a thermal blanket, and a snow park that includes activities such as tubing (descent on an inflatable), sledding, climbing, and bobsledding. This includes a ride on the Giant Ball (you enter a giant ball and then are dropped down a steep slope). Once you're done carving the slopes, you can meet the resident penguins, not behind glass; you'll get to interact with them and hug them.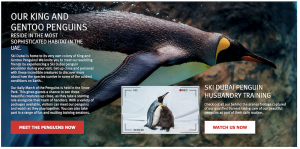 https://www.skidxb.com/snow-penguins
– THE GOLDEN FOOD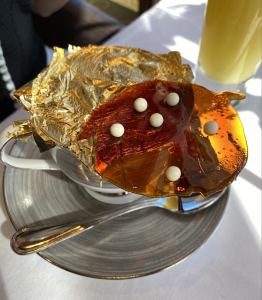 The UAE is known for its love of gold.
Chefs in Dubai sometimes garnish dishes and cocktails with gold, so there are some places where you can eat gold-topped foods.
At the Burj Khalifa, Atmosphere serves golden cappuccinos topped with 23-carat gold leaves.
The most expensive pizza in the world, called the "Royal Pizza", is available at Pierchic's in the Madinat Jumeirah area for 180,000 euros, and the most expensive cupcake in the world is the Golden Phoenix cupcake, priced at 90 euros for a single cupcake at Bloomsbury.
For an aperitif, you can choose a refreshing cocktail from the Burj Al Arab's Skyview bar.
The cocktail is called "27,321", a number that does not indicate the cost (which is "just" 6,600 euros). The 27 indicates the floor of the skyscraper where it is served, while 321 is the height of the famous sail-shaped building.
– DINE UNDER THE SEA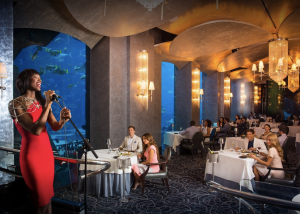 Dubai has restaurants with terraces and breathtaking views, but you can do this in many other countries of the world. Why not change your perspective from above water to below water? Dining at Al Mahara in the Burj Al Arab and Ossiano in the Atlantis offers guests a chance to observe marine life while enjoying their meal. You might be watching the fish…or they might be watching you this time.

– UBER EXCLUSIVE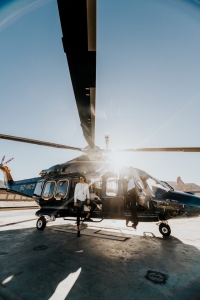 Obviously, Uber is present in Dubai, but how can you avoid the long traffic lines?
As an alternative to the Uber-car, you can take an Uber CHOPPER ride, see the city from above, and always be on time.
Perhaps the tip will cost you a little more, but it will be worth it.
-SHOPPING AT ONE OF THE LARGEST MALLS IN THE WORLD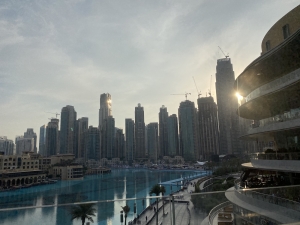 With an area of 5,400,000 sq ft and 1,200 stores, Dubai Mall is the second largest mall in the World (after Iran Mall in Tehran.) You're used to big shopping malls, but often they don't have everything, so you'll be pleasantly surprised here.
An Ice skating rink, cinema and a giant virtual reality and game room will keep bored husbands and children entertained while they wait for the ladies to shop. The mall also features interesting cafés and delicious restaurants.
– RENT EXOTIC CARS OF ALL COLORS AND TYPES.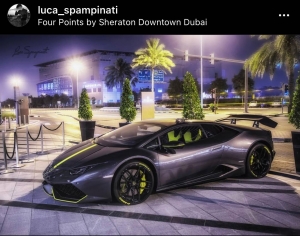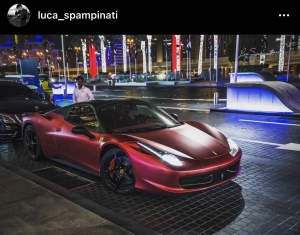 Many hotels have super luxurious cars waiting for their owners or anyone who wants to rent one. If you'd like to show off a bit to your girlfriend or friend, you can rent and drive a car of your dreams for a few hours or for a whole day…and the price is totally affordable! You'll be covered by an insurance policy that will let you enjoy yourself while respecting the speed limits.
Don't forget the Expo, which will continue until 31 March 2022! So, come to Dubai and experience one of these amazing activities!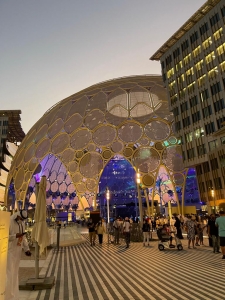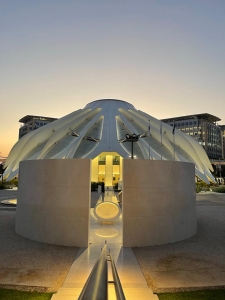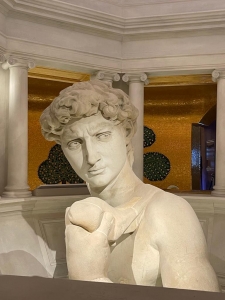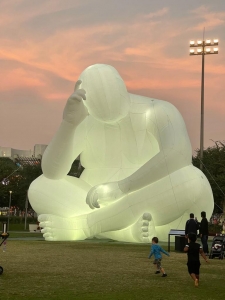 Please feel free to contact Aspectus if you have an interest in investing in this wonderful city. We will explain how you can finally invest in Dubai real estate safely with a small budget and a good return on investment!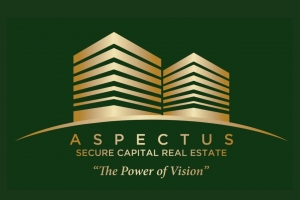 To learn more, Contact us:
Email: Investorrelations@aspectussre.com
WhatsApp: + 971 50 973 9885
Office: (Monday-Friday) + 971 4 388 4044
Credit for the pictures: "THE WORLD" (Wikipedia ), DINE UNDER THE WATER(Ossiano restaurant website), FISH (Daniel Corneschi), LUXURY CAR(Luca Spampinati), UBER(Felipe Pires), EXPO(Michela Canali)